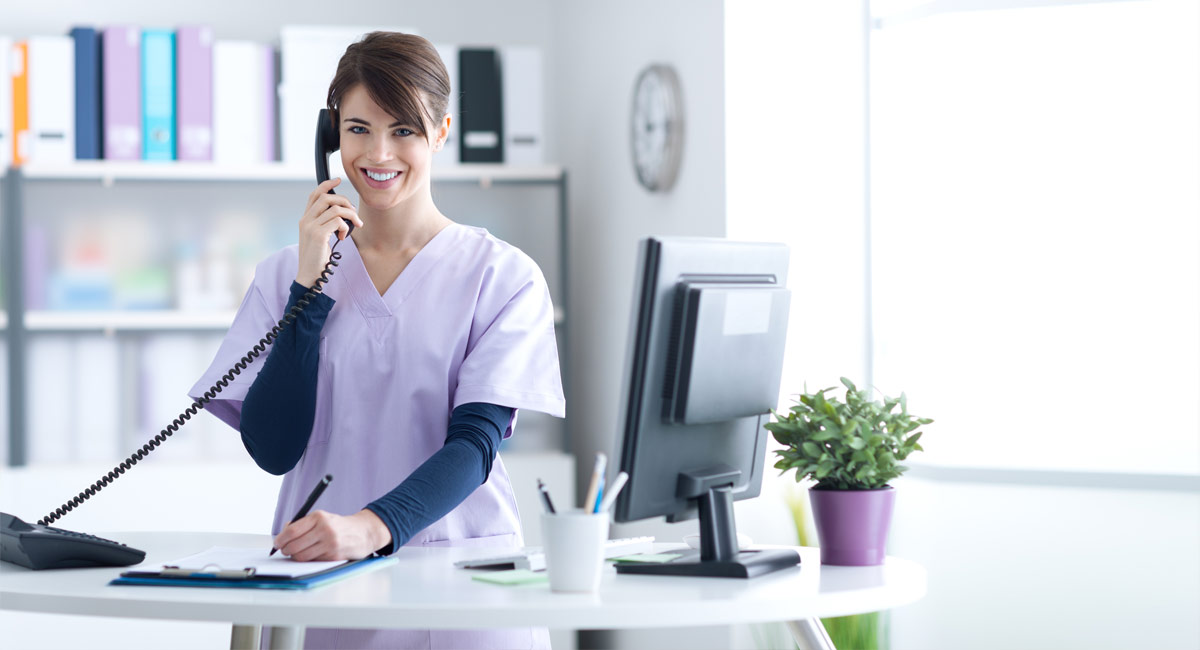 Start Fresh with a Diploma from Oxford College!
Get Info
Now
Fill out form to get all your answers by email
Financial Aid
Class Schedule
Career Info
Job Placement
Program
Overview
The Medical Office Assistant diploma program at Oxford College prepares students to find employment in the growing healthcare sector. As a medical office assistant, you will greet people arriving at a medical office, hospital, or other establishment. You'll also direct visitors to the appropriate person or service, answer and forward telephone calls, take messages, schedule appointments, and perform other clerical duties.
Our program balances the medical knowledge and technical skills needed to succeed as a medical office assistant. Students will be well-equipped to find a rewarding career in this rapidly growing industry.
Students will
learn how to:
Greet patients and schedule appointments using a manual or computerized system, direct them to the appropriate contacts or services and provide general information in person and by phone
Perform clerical duties and maintain front desk security and security access lists
Receive and record payments for services
Interview patients to obtain and process information required to provide hospital and medical services
Program duration:
9 Months
Career
Opportunities
Graduates are employed by hospitals, medical and dental offices, and other offices throughout the public and private sectors.

Medical office assistant
Medical secretary
Medial office administrator
Medical billing specialist
Clinical assistant
Medical Transcriptionist
Industry
Salary Information
Average Wage ($/hr): $21.63
High Wage ($/hr): $28.85
Annual Salary: $23k – $60k
* Information Source: www.jobbank.gc.ca/trend-analysis. Salary data provided is an estimate, and is intended for reference purposes only.
Personality
Assessment
Find out what your personality is like and discover your traits, worries & concerns about taking the next step to study at school towards a new and rewarding career. This quick and easy assessment will provide you with some insight into what to focus on and what you might need to watch out for to best prepare you for your new career and school goals!
Take Assessment
Financial
Aid
Finding yourself in a position where College is unaffordable is more common than most of us realize. Fortunately, Canada's provincial and federal governments are very focused on making education accessible to virtually everyone; even students that are new to Canada. Regardless of your situation: didn't finish high school, are having (or had) financial difficulties, or you are a new arrival to Canada, we will find best financial solution for you!
Our Financial Aid Expert will provide you with options to make best education investment in yourself, both realistic and affordable. Let us help you find option that suits you best. Fill out the form NOW!
Second Careers Program

The Second Career strategy launched by the Ontario Ministry of Training, pays for the training or education needed by Ontarians to get a better job. This program provides financial help of up to $28,000 put towards : tuition, books, living allowance, child care, disability support.

Ontario Student Assistance Program (OSAP)

Ontario Student Assistance Program (OSAP) is a program available to people living in the Province of Ontario. This is a financial aid program that can help you pay for college or university. OSAP offers funding through: grants: money you don't have to pay back, student loans: money you need to repay once you're done school. Find out more about this amazing program. Fill out the form NOW!

Payment Plan

A simple plan may be available that spreads out the costs of your education monthly over the duration of your study period. For students who qualify, a monthly payment plan may be extended beyond the end of your study period. Bad credit and no established credit can often be overcome. We specialize in working with students that have had credit and financial challenges in the past.

Registered Plans:

Lifelong Learning Plan

The Lifelong Leaning Plan (LLP) allows you to withdraw money from your RRSPs to finance your education or that of your spouse or common law partner. You can withdraw up to $10,000 per year, up to a total maximum of $20,000.

Registered Education Savings Plans (RESP)

Students who have been named under a family's Registered Education Savings Plan may use funds from an RESP to cover the costs of education at an eligible post-secondary institution. Complete our form above for more details.

Workplace Safety and Insurance Board (WSIB)

If you are a WSIB recipient or a surviving spouse, WSIB may have funding resources for work force re-entry. Contact your case worker about re-training, this will help you to get back into the work force through re-training.
PETERBOROUGH
360 GEORGE ST N #16
K9H 2H6 CANADA
SCARBOROUGH
670 PROGRESS AVE
M1H 3A4 CANADA
TORONTO
869 YONGE STREET
M4W 2H2 CANADA
MISSISSAUGA
1300 CENTRAL PKWY W
L5C 4G8 CANADA
BURLINGTON
760 BRANT ST
L7R 4B7 CANADA
BARRIE
320 BAYFIELD ST
L4M 3C1 CANADA